Accommodation in Třeboň Amálka
Family pension in the Czech town of Třeboň
South Bohemian town of Trebon is located in a picturesque landscape, laced with rivers Lužnice, New River, Nežárky and last but not least, the Golden sewer. It is surrounded by beautiful lakes and deep forests. It is situated in the heart of the Protected Landscape Area and Biosphere Reserve by UNESCO. The historic old town is the center of tourism and cycling. In 2009, Trebon was declared the most attractive city in the Czech Republic mainly for ideal conditions for rest and relaxation.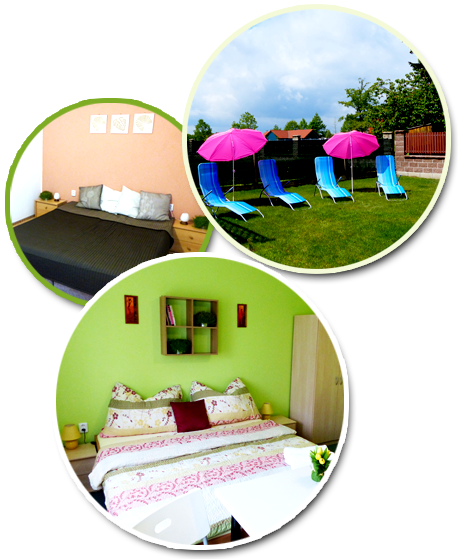 The Amálka pension offers accommodation in Třeboň, in a quiet part of this spa town located between two large ponds, "Svět" and "Opatovický" (accommodation in pension Třeboň). If you use the accommodation in the pension, you may expect pleasant family holidays in the Třeboň area (holiday for families with children Třeboň)and a rest in a pictoresque and a quiet part of South Bohemia (relaxing holiday Třeboň area). The family pension is situated only about 5 minutes by car from the Bertiny Spa (accommodation near the Bertiny Spa Třeboň), in case of your interest, the willing staff of the pension will arrange spa procedures and other spa services here.
Accommodation is with breakfast
For lunch and dinner you may visit a pleasant restaurant which is about 100 metres far from the Amálka pension. The surrounding is great for an active relax (active holidays Třeboň), very popular are hiking and cyclo tourism in the Třeboň area (a pension for bikers in Třeboň), (accommodation for cyclists and tourists Třeboň). The pension offers quality and cheap accommodation in Třeboň area.
Offers Accommodation
The pension provides accommodation in seven double rooms and one four-bed-room (extra beds possible), total capacity is 26 beds. Accommodation in this pension in Třeboň area is suitable for individuals, small and big groups of people.
The pension has a large garden, where you will find a barbecue, fireplace or pergola. You can relax on sun loungers in the grass. There is also a small snack, where you can taste an excellent cookfish.
All rooms are equipped with
their own sanitary facility,
a fridge, a microwavw, a kettel a
nd a basic kitchen equipment.
Some rooms have their own small kitchen. There is WIFI in each room.
You can also use a bike storage which is lockable and a free car park (accommodation with free parking Třeboň). In warm summer evenings there is an outdoor sitting by a grill which you may use as well (holiday for all ages in Třeboň).
You can take a nice, pleasant walk to the downtown on a barrage of the Svět pond (10-15 minutes). The town of Třeboň offers a rich self-realization with a lot of culture and restaurants. Tips for trips including maps are available in all rooms.
The beautiful nature around challenges you to go hiking, cycling, walking or fishing and mushroom pickuping in the Třeboň area (hiking with accommodation Třeboň). You can also go swimming to a nearby open air pool.
The Amálka villa is suitable for families with children in the Třeboň area (accommodation for families with children Třeboň) as well as for tourists or bikers in the Třeboň area (accommodation for tourists and bikers Třeboň).